Over the weekend Dudley sent an email thanking you for your generous financial support during the recent Senate gun control fight.

NAGR spent nearly one million dollars on hard-hitting TV ads and direct mail pieces in close to two dozen targeted states during the battle.

To watch some of the TV ads and direct mail pieces you helped to fund, please click on the map below.

The states highlighted in red represent states where we spent the bulk of your generous contributions.

Thanks again for your support!

-- Ashley R

P.S. With news breaking over the weekend that gun control is returning before the end of 2014, we're gearing up to flood the House and Senate with millions more petitions.

So after you click the map below and view the TV ads, please sign your NEW No Gun Control, No Deals petition.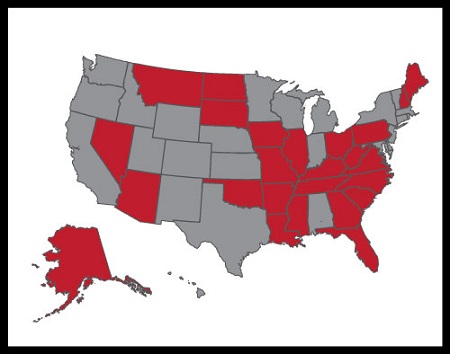 ---
From: Dudley Brown [dudley.brown@nationalgunrights.org]
To: Ashley [ashley@nationalgunrights.org]
Sent: Saturday, April 27, 2013 10:36 AM
Subject: Witch hunt
---


Dear Henry,

There's been much talk on Capitol Hill in recent weeks about NAGR's 2.8-million members and supporters.

Your sustained grassroots pressure during the Senate gun control battle hasn't gone unnoticed.

And the hard-hitting TV ads and direct mail pieces you helped fund literally set Capitol Hill ablaze -- prompting a number of U.S. Senators to openly complain about the heat they felt from NAGR gun rights activists.

I'll provide you with a link in a moment so that you can view those TV ads and direct mail pieces.

The DC-news service Politico quoted one Senate Democrat who voted against the gun control bill as saying "the calls literally were . . . at least 7 to 1 against that bill."

And earlier this week on MSNBC, Republican Senator Pat Toomey, who was the lead sponsor of the Toomey-Manchin Background Check (National Gun Registration) Bill said:

"I would say we heard from [NAGR members and supporters] several times. It was a much more vocal, much more passionate expression from that camp."

Billionaire NYC Mayor Michael Bloomberg spent tens of millions of dollars to cram gun control down the throats of the American people . . .

. . . but in the end, enough Senators feared you more politically than they did Bloomberg's billions and the arm-twisting from Obama, Biden and Reid.

While my staff here at NAGR didn't have billions of dollars to spend during this battle -- they did spend nearly one million dollars of your generous contributions in nearly two dozen targeted states.

I want to take the opportunity again today to thank you for your financial support over the last few months.

NAGR was by far the most active, and most effective, pro-gun group fighting Barack Obama, Harry Reid, Michael Bloomberg and the rest of the gun grabbers.

Your contributions funded hard-hitting TV and radio ads, hundreds of thousands of pieces of direct mail, millions of emails, nation-wide phone banking operations, and web ads.

The map below shows in red the states where NAGR spent significant amounts of your contributions on grassroots mobilization.

Most of our supporters read our emails and may have even seen our web ads -- but may not have seen the TV ads or direct mail pieces.

Please click below to see a sampling of the TV ads and direct mail pieces you helped to fund.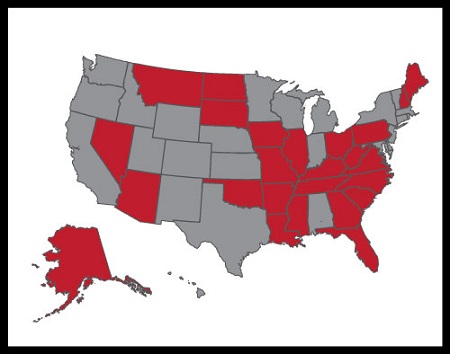 Just this week, I huddled with a number of Senators on Capitol Hill to discuss the threats we still face.

My Capitol Hill legislative team tells me Harry Reid and the gun grabbers are working tirelessly to secure the votes they need to pass gun control.

In fact, on Tuesday, Reid introduced S. 792, a bill that would force you to submit to an expanded federal background check before you could buy gun powder.

Reid could also use this bill as a vehicle to usher through other anti-gun schemes -- via the amendment process -- should the bill make it to the Senate floor.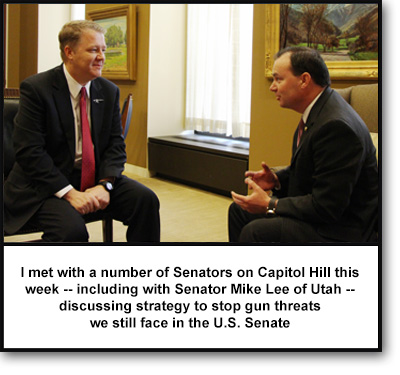 But this fight also appears to have spread to the House.

Republican Majority Leader John Boehner recently said he'd "consider" gun control legislation.

That's why I've instructed my staff to begin targeting members of the House -- Republicans in particular -- who appear to be leaning toward supporting anti-gun legislation.

Republican Scott Rigell of Virginia has introduced ATF Witch Hunt legislation with Democrat Carolyn Maloney of New York, giving President Obama the bipartisan gun-grab he's craving.

Rigell publicly complained about the heat he's taking from NAGR members and supporters:

"It wasn't just radio ads, it was television, direct mail, robo-calls, press conferences, you know, a full court media initiative."

There are many fights in front of us. The gun grabbers will never stop.

That's why I urge you to continue staying involved as often as possible -- making calls, sending emails and contributing financially.

I'm honored to call you a supporter of the National Association for Gun Rights.

And I'm grateful to be standing next to you in the battle to protect and defend our right to keep and bear arms.

For Freedom,


Dudley Brown
Executive Vice President

P.S. If you haven't seen our hard-hitting TV ads and direct mail pieces from the recent Senate gun control battle, please click here to do so now.

And if you can, please consider chipping in $10 or $20 to help NAGR keep up the fight to protect your gun rights.

---
The National Association for Gun Rights is a nonprofit, nonpartisan, single-purpose citizens' organization dedicated to preserving and protecting the Constitutionally protected right-to-keep-and-bear-arms through an aggressive program designed to mobilize public opposition to anti-gun legislation. The National Association for Gun Rights' mailing address is P.O. Box 7002, Fredericksburg, VA 22404. They can be contacted toll-free at 1-877-405-4570. Its web address is www.NationalGunRights.org/

Not produced or e-mailed at taxpayer expense.
---
To help the National Association for Gun Rights grow, please forward this to a friend.

To view this email as a web page, please click this link: view online.

Help fight gun control. Donate to the National Association for Gun Rights!