Dear Henry,

"Rumors of my demise may be a little exaggerated . . ."

Barack Obama's declaration of his political vitality during a news conference on Monday should come as no surprise to gun owners.

Despite your recent defeat of his gun control bill in the U.S. Senate, Obama and the gun-grabbers are far from finished.

Late last week and over the weekend, Obama sent out an army of anti-gun surrogates -- Biden, Schumer, McCain, Manchin and McCarthy -- to make sure the American public knew that gun control is coming back before the end of 2013.

Expanded federal background checks. So-called "gun trafficking" legislation. New mental health mandates.

It's all still VERY alive.

Vice-President Biden: "So I think we're going to get this anyway. I think this will pass before the year is out, within this Congress."

Sen. Chuck Schumer: "I think we will bring the bill back before the end of the year . . ."

Sen. John McCain: "I . . . agree with Chuck that I think the issue will come back."

Sen. Joe Manchin: "We're going to work it hard."

Rep. Carolyn McCarthy: "We do know that a number of Senators have been reaching out . . . if they can work with some of the other members [Senators] who voted 'no' . . ."

Combine the above information with John Boehner's recent statement that he will "consider" anti-gun legislation in the House and you have a clear, concerted effort to ram gun control into law this year.

The "first principle" of being a gun rights activist is the recognition that there is always another battle around the corner.

Obama took a big political hit a couple of weeks ago when his bill went down. You should take a breath and celebrate, but only for moment.

Within hours of losing that battle, the gun-grabbers were already scheming for the next fight.

Bloomberg promised tens of millions of dollars to the effort.

Harry Reid marched to the floor of the Senate vowing to bring the bill back.

In the days leading up to the battle, my federal legislative team delivered close to four million petitions and nearly one million emergency faxes to U.S. Senate offices.

Capitol Hill insiders -- and even a number of U.S. Senators -- openly complained that the voice of gun owners "drowned out" that of the gun grabbers.

So, if you and I are to win the next show-down battle over our gun rights, we have to apply even more grassroots pressure.

That's why it's vital you take action again today by signing your NEW"No Gun Control, No Deals" petition to your U.S. Senators and Congressman.

And, as a reward for your grassroots activism, I'll also be giving away THREE firearms -- but ONLY to individuals who click below and sign the petition.

Your petition signature is your entry into the firearms drawing.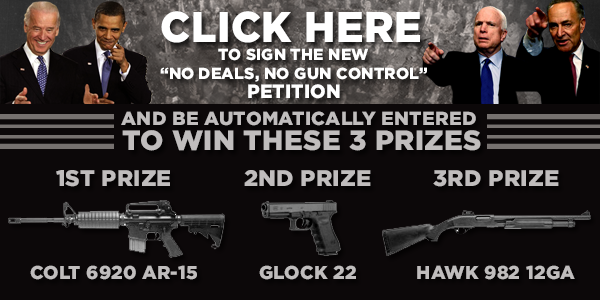 Obama's political history tells us that on left-wing "Holy Grail"issues such as gun control, he'll come back again and again.

And, with Republicans and Democrats on Capitol Hill once again talking of "compromise" of your gun rights, it's vital gun owners mobilize in opposition to their anti-gun schemes.

That's why it's so important you click here to sign your NEW "No Gun Control, No Deals" petition to your U.S. Senators and Congressman.

And as I mentioned above, by signing your petition, you'll also be included in a drawing to win one of THREE firearms!

Flooding Capitol Hill with truckloads of petitions in OPPOSITION to ALL gun control schemes must be done continuously if you and I are going to protect our gun rights.

Thanks -- in advance -- for taking action.

For Freedom,


Dudley Brown
Executive Vice President

P.S. Obama deployed an army of anti-gun surrogates this weekend to warn the American people that his gun control bill will be back before the end of the year.

To stop Obama's scheme dead in its tracks once again, gun owners must flood Capitol Hill with millions of petitions.

Please click on the image below to sign your NEW"No Gun Control, No Deals" petition RIGHT NOW!

When you sign, I'll also enter you into a drawing for one of THREE firearms!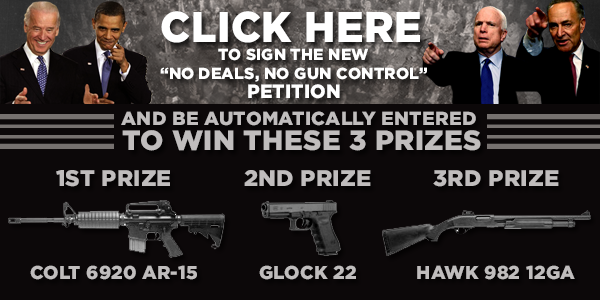 ---
The National Association for Gun Rights is a nonprofit, nonpartisan, single-purpose citizens' organization dedicated to preserving and protecting the Constitutionally protected right-to-keep-and-bear-arms through an aggressive program designed to mobilize public opposition to anti-gun legislation. The National Association for Gun Rights' mailing address is P.O. Box 7002, Fredericksburg, VA 22404. They can be contacted toll-free at 1-877-405-4570. Its web address is www.NationalGunRights.org/

Not produced or e-mailed at taxpayer expense.
---
To help the National Association for Gun Rights grow, please forward this to a friend.

To view this email as a web page, please click this link: view online.

Help fight gun control. Donate to the National Association for Gun Rights!